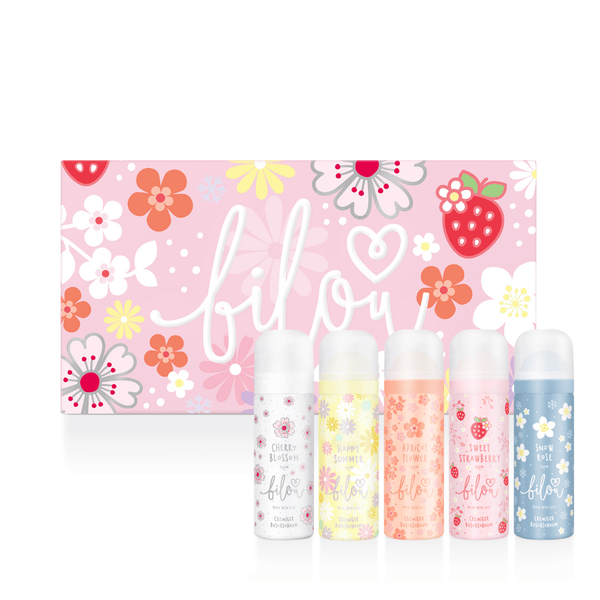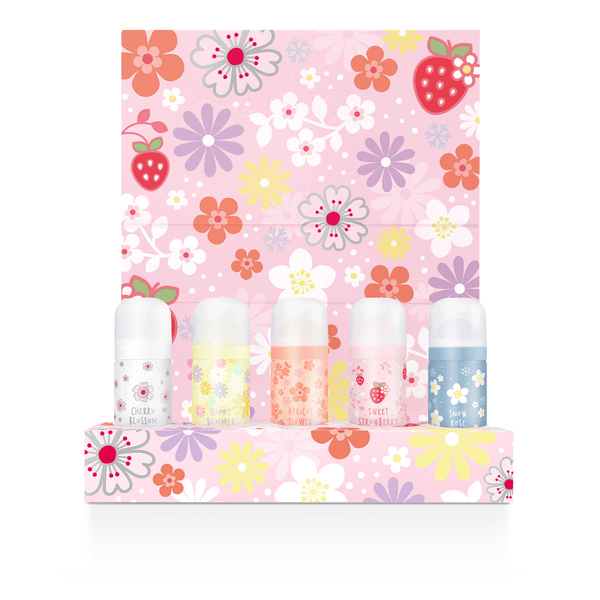 bilou Limited Collection
gift set
Product information
250 ml (3,98 €/100ml)
Delivery time 2-4 working days
bilou creamy shower foam - made with love and passion. Extraordinary scents that will sweeten your day. Super Special: all shower foams have colored foam! Sweet Strawberry & Apricot Flower are the newest bilou shower foams and are only available in this super cute set. The practical travel sizes are your perfect companions and fit in every bag. The set contains 1x Cherry Blossom shower foam (50 ml), 1x Happy Summer shower foam (50 ml), 1x Apricot Flower shower foam (50 ml), 1x Sweet Strawberry shower foam (50 ml), 1x Snow Rose shower foam (50 ml) (dimensions of Sets: 23.5 x 5 x 12.5 cm). 
To get the most of your extra creamy bilou foam, please note the following: shake can vigorously before use; hold upright and dispense the shower foam into your hands, then spread evenly over wet skin. Rinse thoroughly.
Not suitable for consuming. Avoid eye contact. Danger. Container is under pressure: May burst if heated. Keep away from heat, hot surfaces, sparks, open flames and other sources of ignition. Do not smoke. Do not puncture or burn, even after use. Protect from sunlight. Do not expose to temperatures above 50°C/122°F. Keep out of reach of children. Cherry Blossom, Happy Summer, Apricot Flower, Sweet Strawberry and Snow Rose shower foams contain 6.00% flammable components by mass.
Cherry Blossom: Aqua, Sodium Laureth Sulfate, Butane, Disodium Cocoamphodiacetate, Propane, Prunus Amygdalus Dulcis Oil, Persea Gratissima Oil, Aloe Barbadensis Leaf Extract, Parfum, Caprylic/Capric Triglyceride, Sodium Chloride, Dipropylene Glycol, Citric Acid, Sodium Benzoate, Limonene, Linalool, Alpha-Isomethyl Ionone
Happy Summer: Aqua, Sodium Laureth Sulfate, Butane, Disodium Cocoamphodiacetate, Propane, Parfum, Prunus Amygdalus Dulcis Oil, Persea Gratissima Oil, Aloe Barbadensis Leaf Extract, Caprylic/Capric Triglyceride, Sodium Chloride, Dipropylene Glycol, Citric Acid, Sodium Benzoate, Sodium Sulfate, Linalool, Limonene, CI 19140, CI 42090
Apricot Flower: Aqua, Sodium Laureth Sulfate, Butane, Disodium Cocoamphodiacetate, Propane, Parfum, Prunus Amygdalus Dulcis Oil, Persea Gratissima Oil, Aloe Barbadensis Leaf Extract, Caprylic/Capric Triglyceride, Sodium Chloride, Citric Acid, Sodium Benzoate, Dipropylene Glycol, Sodium Sulfate, Benzyl Salicylate, Linalool, Coumarin, Geraniol, CI 16035, CI 19140
Sweet Strawberry: Aqua, Sodium Laureth Sulfate, Butane, Disodium Cocoamphodiacetate, Propane, Parfum, Prunus Amygdalus Dulcis Oil, Persea Gratissima Oil, Aloe Barbadensis Leaf Extract, Caprylic/Capric Triglyceride, Sodium Chloride, Citric Acid, Sodium Benzoate, Dipropylene Glycol, Sodium Sulfate, Linalool, Citronellol, CI 16035, CI 45100
Snow Rose: Aqua, Sodium Laureth Sulfate, Butane, Disodium Cocoamphodiacetate, Propane, Parfum, Prunus Amygdalus Dulcis Oil, Persea Gratissima Oil, Aloe Barbadensis Leaf Extract, Caprylic/Capric Triglyceride, Sodium Chloride, Dipropylene Glycol, Citric Acid, Sodium Benzoate, Sodium Sulfate, Linalool, Limonene, CI 60730, CI 42090